The Vintage Trend that's Making a Comeback
Rattan Furniture Trends From EF Brannon Chattanooga
Trends come and go but when some trends come back they have an impact that's hard to ignore. We're talking about all things rattan. While this trend has been on the rise for some time it appears to be going strong and becoming a mainstay in homes of all styles. Rattan furniture has an organic quality with a texture that's hard to replicate any other way. Let's take a look at this trend and some easy ways to use it in your home.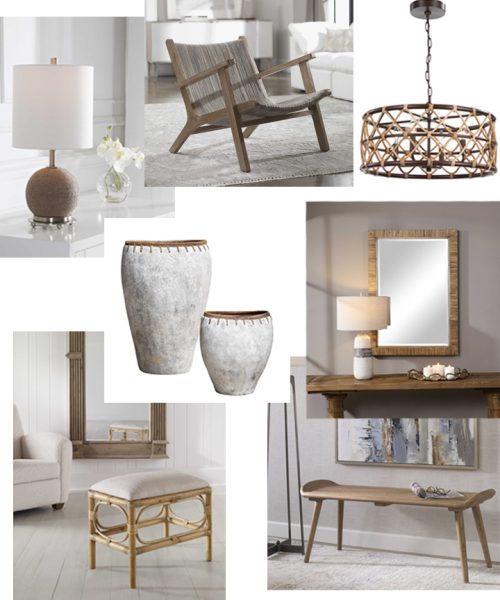 lamp / chair / chandelier / vases / mirror / ottoman / bench
While it may be petite, the Captiva lamp is packed with incredible details. Rattan, nickel and linen create a refined look. This little light is perfect for tucking into small spaces, making it a fun way to try this look. 
An accent chair is no doubt an easy way to add some style to your home. Constructed of mango and rattan the Aegea chair will bring some earthy organic flair to a bedroom or living room.
Light up your home with a rattan chandelier. The Hilo chandelier is high on contrast and texture and would definitely be a statement piece. Hang this light over your dining table for some eclectic cool style.
Even the smallest details can add interest to a room. Terracotta vases trimmed in rattan are earthy and chic. Place the Dua vases on a kitchen counter, style them into a bookcase or layer them in front of artwork or a mirror. 
Simple and sleek, the cape mirror has the power to up the style in any space. This modern mirror framed in rattan will add some organic texture to a bathroom or entry. Pair with polished metal accessories for an elegant take on this trend.
Ottomans, both stylish and functional, are a smart way to try a design trend. Place a pair at the foot of the bed, underneath an open console or simply add one to an accent chair in your living room. The Laguna has beautiful and intricate details and a breezy look. 
We're huge fans of using a bench to add versatility to your home and even better when it can be used to incorporate a new trend. The Arne bench has minimalist Scandinavian style with a rattan top. Place it in the entry and top with artwork or use it at the dining table to mix up your seating. 
You can add some amazing texture and style to your home with rattan furniture! Do you want to try this trend in your home? Then visit our EF Brannon Chattanooga showroom to find all these pretty rattan pieces and more.