Decorating Tips for Kids' Rooms
Room Decorating Ideas For Kids
Decorating kids' spaces is fun but also a little tricky. You want the room to be a space your child loves and reflects their unique personality. At the same time, the finished space should flow with the style of your home. It is possible to decorate a space that both you and your child will love! Here are two examples of kids' rooms that combine style and function to create a space all their own. Check out these room decorating tips for creating a kids' room that you're both sure to love.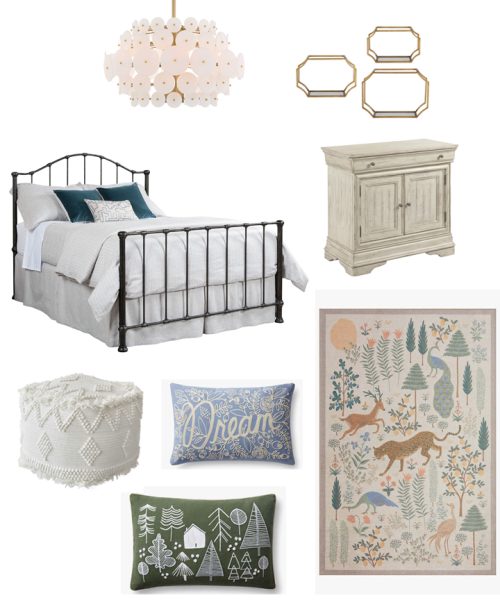 chandelier / shelves / bed / nightstand / pouf / dream pillow / forest pillow / rug
Create some whimsy for your little adventurer. This space is filled with muted feminine colors, playful style, and pieces your little one can grow into. 
Start with a foundation of pieces that will last for years. An iron bed and neutral solid wood furniture are timeless. As they grow their tastes will change but the furniture won't have to. 

Fun lighting is a game changer so replace standard lighting with a chandelier as unique as your child. 

Style the space with pieces that will ignite their imagination. This forest themed rug is so playful and introduces a pretty color pallet.

Layer in more color with some playful pillows that inspire their creative spirit. These pretty pillows flow with the overall whimsical look without feeling too much like a "theme". 

Add accents such as a floor pouf that can serve as an extra seat for play dates and add some floating wall shelves to help her organize and display some of her favorite things.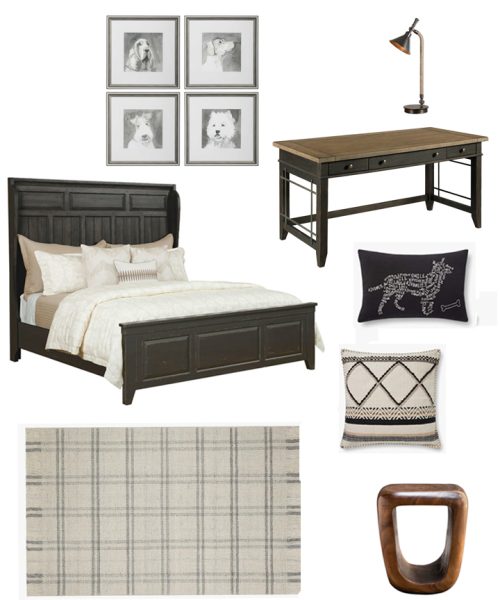 artwork / lamp / desk / bed / dog pillow / square pillow / rug / stool
A neutral room with a masculine vibe and versatile pieces will serve your child and your home well. Functional and fun is the name of the game in this kids' space. 
A bed with an oversized headboard in classic black has a cool statement look. It's also a great investment since it can grow with your child or become a pretty bed for a guest room later on. 

Choose artwork that reflects your child's specific interests. If your little one is an animal lover then hang some playful animal artwork in black-and-white.  

Give them a workspace of their own. This two-toned desk can function as both a nightstand and a comfortable place to finish homework or do crafts. Don't forget a cool lamp! 

Style the space with pieces that add contrast. A neutral rug will brighten the room and a fun mix of pillows adds personality. A wood stool is a stylish accent that adds texture and can also serve as a seat at the desk. 
Create a room for your child that the whole family will love. A mixture of classic pieces, functional furniture, and playful accessories is a formula that works every time. Visit our EF Brannon Chattanooga showroom to design a beautiful bedroom for your little one today.