Tips for Decorating a Teen's Bedroom
Chattanooga Bedroom Furniture and Style Update for Your Teen or Tween
Decorating your child's Chattanooga bedroom can be so much fun. Themed bedding and stuffed animals are such a sweet way to make their spaces special in the early years. Eventually though, there will come a time when your child will outgrow that adorable little bed and that cutesy style that worked so well early on. So if it's time to upgrade your child's space, check out this mood board for a fun and stylish take on updating a teenage girl's bedroom.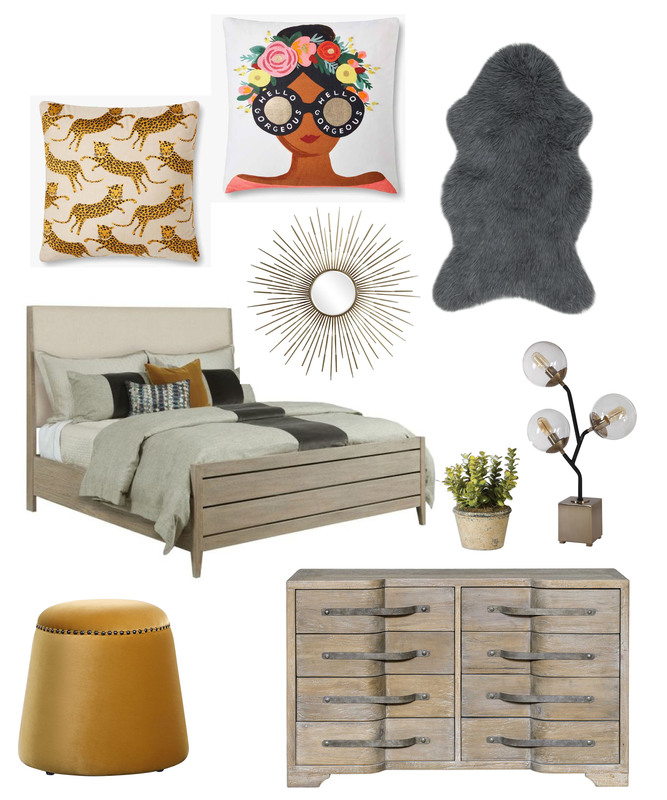 pillows | rug | mirror | bed | greenery | lamp | ottoman | dresser
Fun pillows are a must! Start with pillows in neutral or solid colors, then layer in one or two quirky pillows like these fun styles from Loloi.
Faux-fur is always a fun addition to a teen's space. Measuring at 2′ x 4′ this rug is a stylish and versatile accessory. It can be layered over a larger run, tossed over a chair, or thrown over the bed to add some style and plush texture.
Mid-Century Modern Flourishes
Decorative mirrors can also serve as artwork. Inspired by mid-century modern style, this one has a fun vibe, and adds a sleek, polished feel. It's the perfect accent piece to hang on the wall over the bed.
An upholstered bed will instantly elevate the look of a bedroom. The Incline bed by Kincaid offers a stylish mix of fabric and wood which also has a casual feel, making it an easy choice for a teen's room.
Every space needs something organic, and this adorable little succulent is one you will never have to worry about watering. Enough said.
Add Intrigue with Light Fixtures
Skip the basic lighting! Add some major interior design vibes with a funky lamp or a statement chandelier your teenager will flip over.
An ottoman is a perfect piece for a teen's bedroom, and a pair of ottomans positioned at the foot of the bed can double as extra seating when friends gather for a sleepover.
Oversized Dressers for Storage
A roomy dresser is a must to keep a teen's room tidy. Choose one that blends with the bed, but maybe in another color to avoid a look that's too matchy-matchy. Details like iron drawer pulls, and a curvy shape give this piece a one-of-a-kind vibe to mimic your gal's individuality.
Is your teenager's bedroom update overdue? We can help you design a space she will love. Shop our showroom, or make an appointment with a designer today!