Add Character to Your Home with Leather
Chattanooga Leather Sofas
Let's talk about character. An important element in decorating your home, character adds depth, warmth, and can make your home feel more inviting. There are so many ways to add this must-have element to your spaces; however, if you want to add major character with minimal effort, then you need a gorgeous leather sofa. When you choose a leather sofa or sectional with the right details it will make a statement and result in a home with interest and style. EF Brannon has Chattanooga leather sofas in many different styles so you can find the perfect one for your space.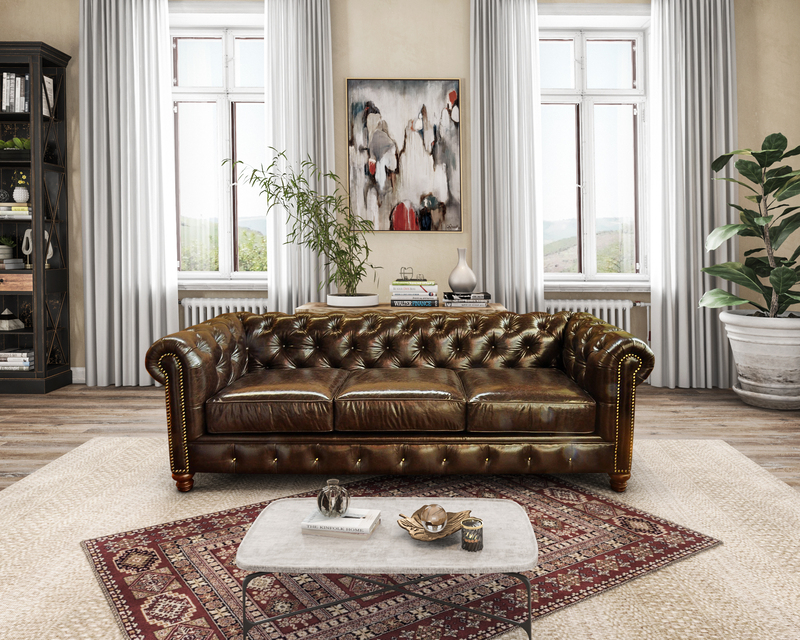 A chesterfield style sofa is always a classic, and the Remington has some major statement making details. Tuxedo arms, tufting, and aged leather is finished to perfection with a carefully applied nail trim. Pair it with a vintage-inspired rug for a look that's on trend and loaded with character.
The Wesley is a beautiful example of a sectional sofa that has loads of character in one modern leather package. Clean lines and high contrast stitching upholstered in rich caramel colored leather will add so much warmth to your living room. Contrast that warmth with a modern glass table for a designer look.
If you're looking for a sofa that has character and classic appeal, this is it. With a broad back and rolled arms, it's as comfortable as it is beautiful. A more formal take on the classic leather sofa, the Kaymus has sophisticated style and character for days.
Even minimal details on a leather sofa can bring some major character into a space. The smooth and sleek Essence sectional sofa is punctuated with tufted seating for extra cushy seating and modern style. It's the modern answer to a comfortable and cozy sofa with a minimalist aesthetic.
Finally, the Breckenridge sofa has style that can't be ignored. Rich, chocolate leather with bold stitching gives this piece a distinctive design. Comfortable and always stylish, this is a leather sofa that will add so much character with its depth and texture. A neutral rug and wall color allow this sofa to be a beautiful focal point in any room.
Is your home lacking character? Then consider replacing your sofa with one that is rich in texture and details to add this important element to your interior design. These beautiful, American-made, Chattanooga leather sofas are just a few examples of what is available in our showroom. Visit our Omnia Leather gallery to choose your favorite.