Trending: Neutral Artwork & Wall Decor
Wall Decor That Adds Character
Decorating your walls isn't necessary for the function of your home but it is a must if you want to add beauty, character, and your own personal style. If you shy away from hanging artwork because you prefer a more subtle look then try neutral artwork and wall decor. This look is trending and it's no surprise. It's versatile and adds style with a sense of calm. Here are some of our favorite neutral pieces to decorate your walls.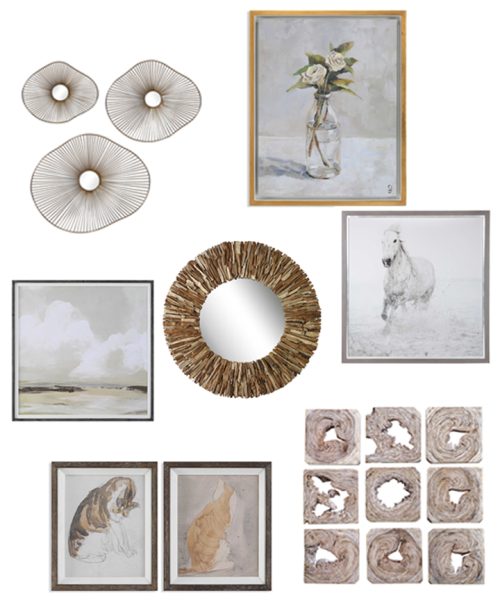 mirrors / roses / soft clouds / mirror / horse / cats / wood slices
Metal wall decor is a modern alternative to artwork. This trio of decorative mirrors makes a pretty statement on their own but would also be a fun addition to a gallery wall. A bit of gold always adds a polished touch. 
Floral artwork is a beautiful addition to a feminine bedroom or bathroom. Simple roses in impressionist style have a soft and ethereal feel. Hang over a nightstand and pair it with a pretty lamp for subtle style in the bedroom. 
An abstract take on a landscape painting in muted tones has a dreamy feel. Place this painting on a dark wall for a moody look. The Soft Clouds print is the perfect piece to hang over the bed. Flank with sconce lights to finish the look. 
When in doubt a statement mirror always works. The Teak Branch mirror adds style to any space. In an entry, a guest bathroom, or a hallway this is a go-to for layering in some heavy texture.
Horses have an almost magical quality. Bring that magic into your home with the Running Free print. Thanks to neutral tones this photograph is an easy addition to any space. Lean it on a mantel or console and layer it with more artwork for a casual chic look. 
For the cat lover with an appreciation for great artwork, this duo of prints is a must. Cat and Study of a Cat are a sophisticated take on animal inspired artwork. Neutral tones mean they work in almost any space.
Wood slice wall art is a stylish way to add dimension and texture. Handcrafted pieces mean they are truly unique. Hang them in a grid to add symmetry or in a more abstract way for a fun take. Whitewashed wood has a light grainy look and an organic quality. 
You don't have to live with blank walls! Decorate with neutral artwork to seamlessly add style and character to your home. Shop our EF Brannon Chattanooga showroom for everything you see here and much more.