Trending Style: Waterfall Table
There's a trend emerging in accent tables and it's one that we are fully on board with. The Waterfall table, named for its distinct design, is sleek and seamless and mimics the graceful flow of a cascading waterfall. The tabletop extends down to form the legs, creating one uninterrupted piece of furniture that is as stylish as it is functional. Let's take a look at why this table is the perfect piece for lovers of minimalist design.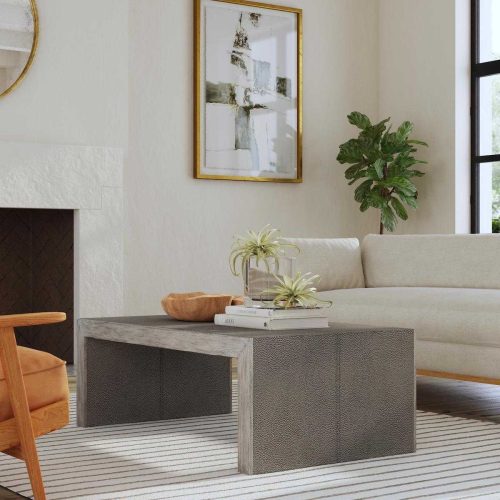 The Aerina table features some uniquely stylish details. Distressed wood is wrapped in light gray faux shagreen to add texture and interest to an already chic piece. Modern and minimalist, this waterfall table brings an elegant feel to furniture with hard edges and clean lines.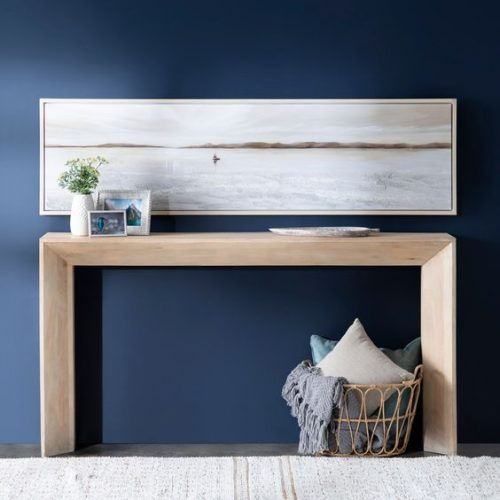 Mango wood in a natural finish creates a waterfall console with a fresh and earthy look. The open and airy design is great for small spaces, allowing you to add function without overcrowding your home. Place it in the entry to create a stylish welcome or behind the sofa to add lamps and highlight the natural grain of the wood.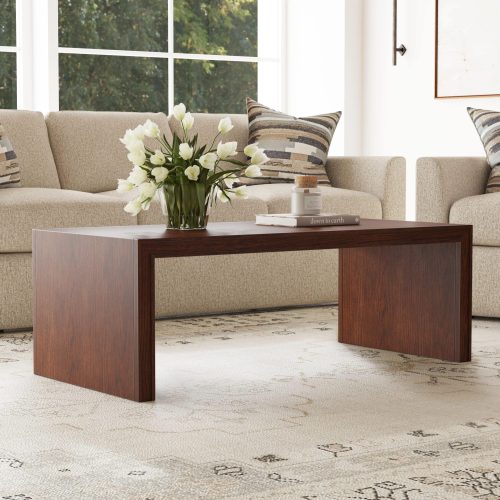 Give your sofa an upgrade with this stylish coffee waterfall table from Flexsteel. Modern design in a classic brown finish contrasts beautifully with neutral textiles. This sleek and minimalist look is a great option for creating visual space and allowing a showpiece rug to be seen.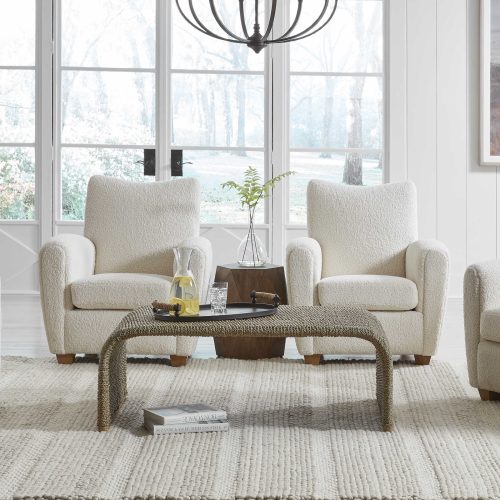 Functional design loaded with texture makes the Calabria coffee table a design lover's dream. A slightly curved form makes this seagrass waterfall table a statement piece. Place it in a conversation area for a fun addition or at the foot of the bed to create a stylish place to sleep.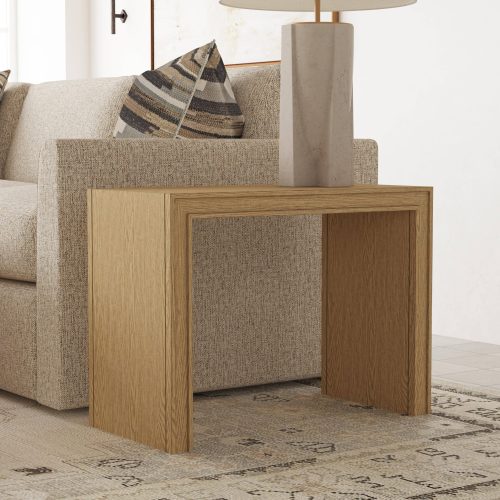 This fun table trend is just as good in small doses. In a light oak stain with a wire brush finish, this little end table has some serious character. Even better? It's super versatile. This waterfall table can be flipped on its end to sit in a fun "C" shape and it can even be nestled on top of the matching coffee table.
Waterfall tables offer so much style and many opportunities for creating function in your home. If you're ready to try this trend that's sure to become a classic, check out our showroom to see all that we have to offer. Our design specialists would love to show you the endless decorating possibilities with a waterfall table.