Stylish Dining Furniture for Small Spaces
Find Your Perfect Chattanooga Dining Room Set At EF Brannon
We believe furnishing and decorating a small dining space is always a fun challenge. Even in spacious homes or those with an open floor plan, the area designated for dining is sometimes limiting due to space or layout. We believe every home, no matter the size, should have a place that's comfortable and beautiful where friends and family can gather and share a meal. So we've rounded up some of our favorite dining room pieces that are built for small spaces but designed with major style.
First up is this cottage style counter height table. Not only is the Weatherford gathering table an easy fit for small spaces it also offers a great built-in feature. It's designed with a roomy drawer and an open shelf to help you stay organized in style while providing a little coveted storage.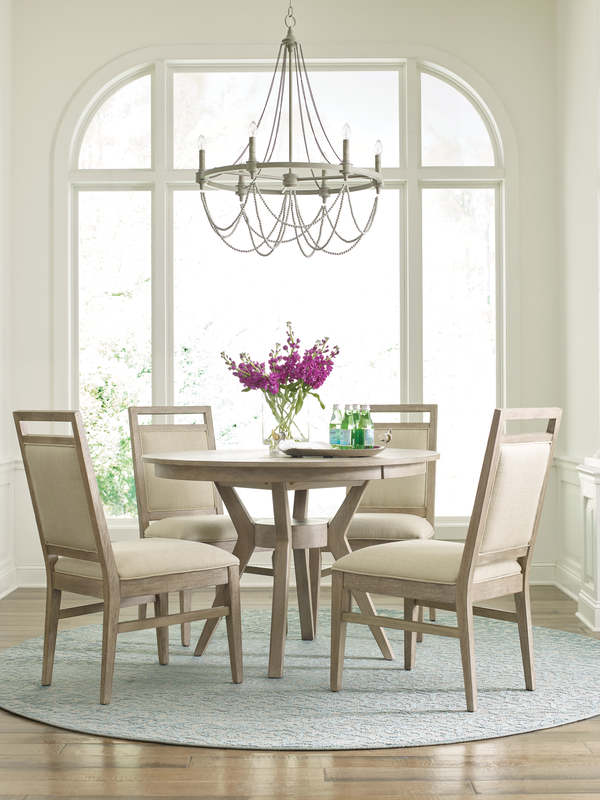 The refined style of the Nook table adds so much elegance to even a small dining space. Not your typical pedestal, it has a modern feel which will certainly make a statement in your Chattanooga dining room. Upholstered chairs are the perfect pairing for this classic look.
Even if you have a large dining room why not create a fun little space for your morning coffee or an evening cocktail in your home? The Lindale counter height table will add some amazing texture to your home and create a cozy little spot for a quick drink.
Kincaid
When you have a small space but still want options the Summit table is a great choice for a Chattanooga dining room set. It comfortably seats four, and can easily convert to a table for six thanks to the included 20" leaf. Clean lines and sleek legs make it roomy and comfortable enough to linger over dinner as long as you want.
Rustic and quaint, the Franklin table by Kincaid has a fun cabin feel. Tuck it into the corner of your kitchen for an easy breakfast spot or a place for the kids to do homework while you cook dinner. Ladder back chairs with woven upholstered seats boast a laid back look that's always inviting.
If you have a small dining space to furnish, then stop by our showroom to check out these options and more. No matter the size of your dining area we can help you design a space that's perfectly suited to your home and your family's needs, with a slew of Chattanooga dining room sets to choose from.